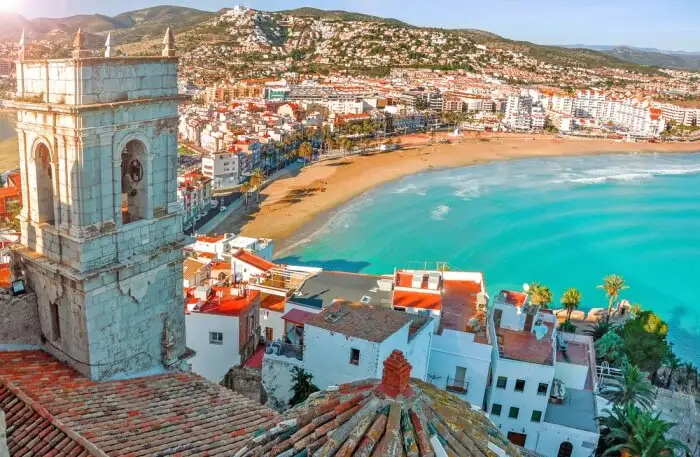 Travel
Where to travel in the world in October
October is a wonderful time to embark on a global adventure. With the changing seasons and the beauty of nature on display, there are countless destinations to consider. Whether you are seeking stunning landscapes, cultural celebrations, or unique wildlife encounters, October offers something for everyone. Let's explore some of the top travel destinations to consider this month.
Understanding October's Global Climate
Before we delve into specific destinations, it's important to understand the global climate in October. As autumn takes hold in the Northern Hemisphere, temperatures begin to cool, and vibrant colors paint the landscapes. Meanwhile, in the Southern Hemisphere, spring is in full swing. This contrasting climate creates a diverse range of experiences across the globe.
The Northern Hemisphere in October
In the Northern Hemisphere, October ushers in a breathtaking display of fall foliage. One of the best places to witness this natural phenomenon is North America. From the brilliant reds of New England to the golden hues of the Rocky Mountains, the autumn colors will leave you in awe. The crisp air and the sound of leaves crunching beneath your feet create a sensory experience like no other.
Europe also boasts its fair share of golden forests, with destinations like Germany's Black Forest and the enchanting countryside of England. Imagine strolling through ancient woodlands, surrounded by trees ablaze with shades of orange, yellow, and red. The smell of damp earth and the gentle rustling of leaves in the wind create a magical atmosphere that is perfect for romantic walks or peaceful contemplation.
For those seeking a more adventurous experience, head to the Scandinavian countries. In October, Norway, Sweden, and Finland transform into a winter wonderland, with snow-capped mountains and frozen lakes. You can witness the mesmerizing Northern Lights dancing across the night sky, creating an otherworldly spectacle that will leave you spellbound.
The Southern Hemisphere in October
If you prefer to embrace the arrival of spring, head to the Southern Hemisphere. Countries like Australia and New Zealand come alive with blooming flowers and warmer temperatures. The landscapes are dotted with delicate cherry blossoms and vibrant wildflowers, creating a picturesque backdrop for outdoor activities.
In Australia, October marks the beginning of jacaranda season. The streets and parks are adorned with the stunning purple blooms of the jacaranda trees, creating a dreamlike atmosphere. It's a perfect time to explore national parks and embark on hiking adventures, as the weather is mild and the scenery is at its most colorful.
New Zealand, on the other hand, offers a unique blend of natural wonders. From snow-capped mountains to pristine beaches, the country is a paradise for outdoor enthusiasts. In October, the famous cherry blossoms in Christchurch burst into bloom, transforming the city into a pink-hued wonderland. It's a sight that will leave you in awe and provide the perfect backdrop for a leisurely picnic or a romantic stroll.
Whether you choose to chase the fall foliage in the Northern Hemisphere or bask in the blossoming beauty of the Southern Hemisphere, October offers a wealth of experiences for every traveler. So pack your bags, embrace the changing seasons, and embark on an unforgettable journey to witness the wonders of nature.
Top Destinations for Fall Foliage
For those mesmerized by the allure of fall foliage, a trip to North America is a must. The continent offers a plethora of destinations where you can witness nature's most captivating color palette.
As the summer heat begins to fade, the crisp autumn air brings a sense of anticipation. The leaves, once vibrant green, now transform into a kaleidoscope of reds, oranges, and yellows. It's a time when nature puts on its most dazzling show, and there's no better place to experience it than in North America.
North America's Autumn Colors
In North America, October is synonymous with breathtaking displays of autumn hues. The northeastern states, including Vermont, New Hampshire, and Maine, are particularly renowned for their picturesque landscapes. Take a leisurely drive through winding country roads and witness the golden, red, and orange leaves draping the trees.
Imagine yourself strolling through quaint New England towns, with charming colonial houses adorned with pumpkins and hay bales. The air is filled with the scent of apple cider and freshly baked pies. Every corner you turn, you're greeted with a burst of color, as if the trees themselves are celebrating the arrival of fall.
But North America's fall foliage extravaganza doesn't end there. Venture westward to the majestic Rocky Mountains, spanning both Canada and the United States. Here, the towering peaks are adorned with a vibrant tapestry of colors. Lace up your hiking boots and embark on a journey through nature's masterpiece. As you ascend the trails, you'll be rewarded with breathtaking vistas of valleys blanketed in fiery reds and golden yellows.
Europe's Golden Forests
Europe too boasts its fair share of majestic fall foliage. Germany's Black Forest, with its mystical charm, is a popular destination for leaf peepers. The vibrant colors create a magical ambiance as you explore its winding trails. Lose yourself in the dense foliage, and you might stumble upon a hidden waterfall or stumble upon a quaint village straight out of a fairy tale.
In England, the countryside is transformed into a golden paradise, with rolling fields and ancient forests enveloped in warm hues. Picture yourself walking along the Cotswold Way, a long-distance footpath that winds through picturesque villages and offers breathtaking views of the countryside. The leaves crunch beneath your feet, and the gentle breeze carries the earthy scent of fallen leaves.
As you venture further into Europe, the Swiss Alps beckon with their snow-capped peaks and vibrant autumn colors. The mountains are a playground for outdoor enthusiasts, offering a myriad of hiking trails that lead you through forests ablaze with reds, oranges, and yellows. The crisp mountain air invigorates your senses as you immerse yourself in the beauty of nature.
France, too, has its fair share of enchanting forests that come alive with fall colors. Lose yourself in the magical realm of the Fontainebleau Forest, where ancient trees stand tall, their branches adorned with a mosaic of colors. The forest is a haven for hikers and climbers, with its unique sandstone formations providing a playground for adventure.
Whether you choose to explore the vibrant landscapes of North America or immerse yourself in the golden forests of Europe, a fall foliage trip is a feast for the senses. It's a time to slow down, breathe in the crisp air, and marvel at the beauty that nature bestows upon us. So pack your bags, grab your camera, and embark on an unforgettable journey through nature's most captivating season.
Celebrating October Festivities Worldwide
October is not only about natural wonders but also a time to revel in cultural celebrations and festivities around the world.
Oktoberfest Celebrations Beyond Germany
While Oktoberfest in Germany is renowned globally, there are other places where you can join in the festivities. In the United States, cities like Cincinnati, Ohio, and Denver, Colorado, host their own versions of Oktoberfest, complete with traditional music, delicious food, and, of course, refreshing beer. The atmosphere is lively, filled with laughter and joy as locals and visitors come together to celebrate German culture.
Halloween Destinations Around the Globe
October also brings Halloween, a holiday celebrated in various countries with their own unique traditions. Salem, Massachusetts, in the United States, known for its infamous witch trials, embraces its eerie past during the month of October. The streets are filled with haunted attractions, ghost tours, and an air of mystery. If you prefer a more exotic Halloween experience, head to Mexico for the Day of the Dead festivities. Oaxaca and Mexico City come alive as vibrant parades and intricately decorated altars honor the departed.
Exploring October Wildlife and Nature
For nature enthusiasts and animal lovers, October presents incredible opportunities to witness breathtaking wildlife spectacles.
Whale Watching Opportunities
October marks the peak of whale migration in many parts of the world. Head to California's Monterey Bay or Mexico's Baja Peninsula for memorable encounters with majestic humpback and gray whales. In South Africa's Hermanus, you can witness southern right whales as they frolic near the coast. These gentle giants offer a truly awe-inspiring experience as they breach and play in the open waters.
Bird Migration Spectacles
October is also a prime time to witness bird migration events. The Bosque del Apache National Wildlife Refuge in New Mexico, USA, is a haven for birdwatchers during this time. Thousands of sandhill cranes and snow geese flock to the area, creating a mesmerizing sight and symphony of calls. Europe, too, offers incredible birdwatching opportunities, with destinations like Serbia's Djerdap National Park attracting bird enthusiasts from around the world.
Ideal Beach Destinations for October
If you're not quite ready to say goodbye to summer, fear not! October also presents opportunities to bask in sunshine and unwind on idyllic beaches.
Escaping to Tropical Paradises
For those seeking a tropical escape, destinations like Bali, Maldives, and Hawaii beckon with their pristine beaches and crystal-clear waters. October offers pleasant weather and fewer crowds, allowing you to fully relax and immerse yourself in the beauty of these paradises.
Off-Season Mediterranean Getaways
If you prefer a European beach getaway, the Mediterranean still offers warmth and charm in October. Countries like Greece, Italy, and Spain enjoy milder temperatures, allowing you to explore picturesque coastal towns without the summer crowds. Revel in the beauty of the Mediterranean Sea and indulge in delectable cuisine from the region.
As you can see, October presents a plethora of travel options for those seeking adventure, cultural experiences, and natural wonders. Whether you decide to chase the fall foliage, immerse yourself in festive celebrations, or embark on wildlife encounters, this month promises unforgettable experiences. So pack your bags, embrace the changing seasons, and embark on an exploration of the world in October!
You may also like