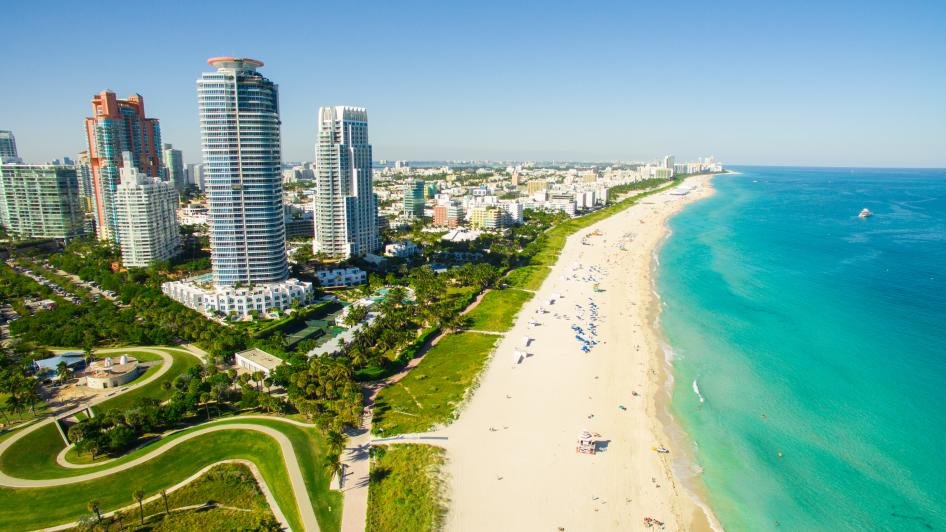 European Travel
The Enchanting Miami Beach: A Paradise of Sun, Sand, and Entertainment
Miami Beach, often referred to as the "Magic City," is a captivating coastal destination that exudes an irresistible allure. With its pristine sandy shores, sparkling turquoise waters, and vibrant cultural scene, Miami Beach offers an extraordinary vacation experience that is second to none. Whether you're seeking sun-soaked relaxation, thrilling water sports, vibrant nightlife, or world-class dining, Miami Beach has it all. In this article, we'll take you on a journey through this enchanting paradise, highlighting its top attractions, activities, and hidden gems.
Miami Beach: A Coastal Haven
Miami Beach is a sun-drenched paradise nestled on the southeastern coast of Florida, USA. This vibrant city is renowned for its glorious beaches, where miles of soft, white sand meet the sparkling waters of the Atlantic Ocean. The picturesque coastline is divided into distinct neighborhoods, each offering its own unique charm and character. Let's dive into the various neighborhoods that make up the splendid tapestry of Miami Beach:
1. South Beach: Where Style and Glamour Meet
South Beach, often called SoBe, is synonymous with glitz, glamour, and celebrity sightings. This iconic neighborhood boasts an eclectic blend of architectural styles, from Art Deco gems to sleek modern structures. Stroll along Ocean Drive, the heart of South Beach, lined with trendy cafes, luxurious hotels, and bustling nightclubs. Soak up the vibrant atmosphere as you marvel at the colorful lifeguard stands and watch the beautiful people go by.
2. Mid-Beach: A Tranquil Oasis
Nestled between South Beach and North Beach, Mid-Beach offers a more laid-back and tranquil ambiance. This upscale neighborhood is known for its luxury resorts, charming beachfront parks, and pristine sandy shores. Take a leisurely bike ride along the Miami Beach Boardwalk, or indulge in a rejuvenating spa treatment at one of the world-class wellness centers. Mid-Beach is a haven for those seeking a serene escape from the bustling city.
3. North Beach: A Hidden Gem
North Beach is a hidden gem nestled away from the hustle and bustle of the more famous South Beach. This neighborhood offers a quieter and more residential vibe, with charming mid-century architecture and a family-friendly atmosphere. Enjoy the uncrowded beaches, explore the North Beach Bandshell for live performances, or discover the vibrant culinary scene at the neighborhood's quaint cafes and restaurants.
4. Bal Harbour: Luxury Shopping and Dining
Located at the northern tip of Miami Beach, Bal Harbour is a paradise for luxury shopping enthusiasts. This exclusive neighborhood is home to the renowned Bal Harbour Shops, an upscale mall housing an impressive collection of designer boutiques and high-end retailers. After a day of indulging in retail therapy, treat yourself to a sumptuous meal at one of the area's gourmet restaurants, offering a culinary experience like no other.
Unveiling the Wonders of Miami Beach
Miami Beach is more than just its beautiful neighborhoods. It boasts a wide array of attractions and activities that cater to every taste and interest. Let's delve into the wonders that await you in this coastal paradise:
1. Bask in the Sunshine on Miami Beaches
The crown jewel of Miami Beach is undoubtedly its breathtaking beaches. From the vibrant South Beach to the serene North Beach, the coastline stretches for miles, offering an abundance of sun-drenched spots to relax and soak up the rays. Set up your umbrella, lay out your beach towel, and let the warm sun embrace you as you bask in the beauty of Miami Beach. Take a refreshing dip in the crystal-clear waters, build sandcastles with your loved ones, or simply enjoy a leisurely stroll along the shoreline. Whether you're a sun-worshipper or a water sports enthusiast, Miami Beach's beaches are a slice of paradise.
2. Explore the Art Deco District
Immerse yourself in the vibrant history and stunning architecture of Miami Beach's Art Deco District. This iconic neighborhood is home to the largest collection of Art Deco buildings in the world, boasting pastel-colored facades, sleek lines, and geometric patterns. Join a guided walking tour to learn about the district's fascinating history and discover the hidden stories behind these architectural marvels. Don't forget to capture some Insta-worthy shots of the iconic lifeguard stands along Ocean Drive.
3. Experience the Vibrant Nightlife
Miami Beach is renowned for its electrifying nightlife scene, offering a myriad of entertainment options that cater to every taste. From trendy rooftop bars to pulsating nightclubs, the city comes alive after dark. Dance the night away to the beats of world-famous DJs, sip on handcrafted cocktails, and revel in the energetic atmosphere that Miami Beach is famous for. Whether you're seeking a glamorous night out or a more intimate setting, the city's nightlife won't disappoint.
4. Indulge in Culinary Delights
Prepare your taste buds for an unforgettable culinary journey through Miami Beach. The city is a melting pot of diverse cultures, and its dining scene reflects this vibrant mix. From savoring fresh seafood at waterfront restaurants to indulging in Latin American flavors in Little Havana, Miami Beach is a food lover's paradise. Don't miss the opportunity to sample some authentic Cuban sandwiches, ceviche, or stone crabs, which are local delicacies that will tantalize your palate.
5. Dive into Water Sports and Activities
For thrill-seekers and adventure enthusiasts, Miami Beach offers a wide range of water sports and activities to get your adrenaline pumping. Try your hand at jet skiing, paddleboarding, or parasailing, and experience the exhilaration of gliding across the sparkling waters. If you prefer a more relaxed outing, embark on a scenic boat tour or go snorkeling to explore the vibrant marine life beneath the surface. Miami Beach's aquatic playground will leave you with unforgettable memories.
6. Discover Museums and Cultural Gems
Beyond its stunning beaches and vibrant nightlife, Miami Beach is also a hub of culture and art. Explore the city's world-class museums and galleries to immerse yourself in captivating exhibitions and thought-provoking displays. The Bass, located in the heart of Miami Beach, showcases contemporary art from around the world. The Wolfsonian-FIU Museum offers a glimpse into the world of design and decorative arts. Don't miss the opportunity to visit the Jewish Museum of Florida, which tells the story of the Jewish community's rich history and contributions to the region.
Frequently Asked Questions (FAQs)
1. What is the best time to visit Miami Beach?
The best time to visit Miami Beach is during the winter and spring months, from December to May. The weather is pleasantly warm, and you can enjoy outdoor activities without the intense heat of the summer months. However, it's important to note that this is also the peak tourist season, so expect larger crowds and higher prices.
2. Are there family-friendly activities in Miami Beach?
Absolutely! Miami Beach offers a plethora of family-friendly activities and attractions. You can spend a day at Jungle Island, an interactive zoological park, or visit the Miami Children's Museum, which offers hands-on exhibits and educational programs. The Miami Beach Botanical Garden is another great option, with its beautiful gardens and nature trails. Families can also enjoy bike rides along the boardwalk or picnics in the various beachfront parks.
3. Is Miami Beach safe for tourists?
Miami Beach is generally a safe destination for tourists. However, it's always important to take standard safety precautions, such as staying in well-lit and populated areas, keeping an eye on your belongings, and being aware of your surroundings. It's also advisable to avoid walking alone late at night and to use reputable transportation options.
4. Can I visit Miami Beach on a budget?
While Miami Beach offers luxurious options, it is still possible to visit on a budget. Look for affordable accommodations in the neighboring areas, consider dining at local eateries and food trucks, and take advantage of free or low-cost activities such as exploring the beaches, strolling through parks, and attending community events. Planning your trip in the off-peak season can also help you save on accommodation and transportation costs.
5. Are there any outdoor activities in Miami Beach?
Absolutely! Miami Beach is a haven for outdoor enthusiasts. You can rent bikes and explore the Miami Beach Boardwalk, go for a jog along the beach, or try your hand at beach volleyball. Water sports such as paddleboarding, kayaking, and surfing are also popular options. Additionally, the city has numerous parks and green spaces where you can enjoy picnics, walks, and outdoor yoga sessions.
6. How do I get around Miami Beach?
Getting around Miami Beach is relatively easy. You can rent a car, use ride-sharing services, or take advantage of the city's public transportation options, including buses and the free trolley service. Biking is also a popular mode of transportation, with bike-sharing programs available throughout the city. Walking is a great option if you're exploring a specific neighborhood or enjoying the beach.
In Conclusion
Miami Beach, with its sun-soaked beaches, vibrant cultural scene, and exhilarating nightlife, is a destination that captivates visitors from around the world. Whether you're seeking relaxation, adventure, or a taste of glamour, Miami Beach has something to offer everyone. From the iconic Art Deco District to the culinary delights and water sports, the city's diverse attractions and activities ensure an unforgettable experience. So, pack your sunscreen, put on your shades, and get ready to immerse yourself in the enchanting world of Miami Beach.
You may also like