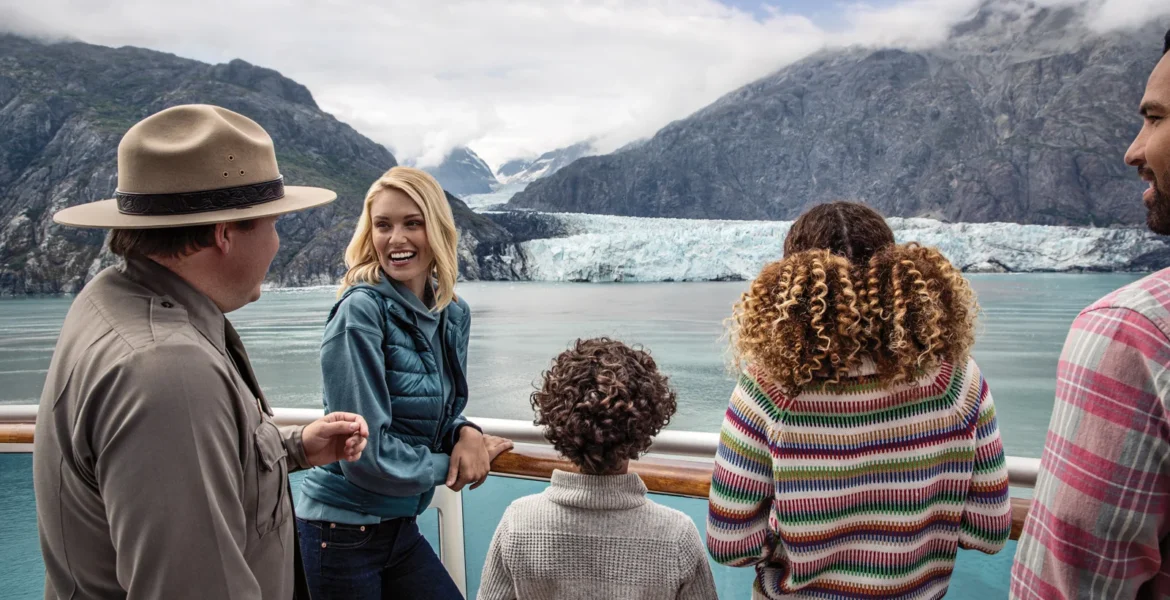 Travel Tips
The best time to cruise Alaska
When planning a cruise to Alaska, it's important to consider the best time to visit. Understanding Alaska's climate, the cruise season, wildlife viewing opportunities, and sightseeing options will help you make an informed decision. Additionally, factors like cost, comfort, avoiding crowds, and busy periods should be taken into account. Let's delve into each of these aspects to determine the optimal time for your Alaskan adventure.
Understanding Alaska's Climate
Alaska's climate is influenced by its sheer size and diverse geography. The state experiences a mix of subarctic and polar climates, resulting in distinct weather patterns. The impact of seasons on Alaska's weather and the temperature ranges throughout the year play a significant role in determining the best time for a cruise.
The Impact of Seasons on Alaska's Weather
Alaska has four seasons: spring, summer, fall, and winter. Each season offers a unique experience, but they also come with specific weather conditions. Spring brings mild temperatures and longer daylight hours, making it an excellent time for wildlife viewing and witnessing the vibrant wildflowers that blanket the landscape.
During spring, as the snow begins to melt, the rivers and streams come alive with the sound of rushing water. This is the time when Alaskan wildlife emerges from their winter slumber, with bears waking up from hibernation and eagles returning to their nesting sites. It's a magical time to explore the wilderness and witness the rebirth of nature.
Summer is the peak tourist season, with temperatures ranging from 60°F to 80°F (15°C to 27°C). This time of year boasts long days and a bustling atmosphere. You'll have more hours of daylight to explore, and the wildlife is abundant, including opportunities for whale watching and bird migration.
During summer, the landscape transforms into a lush green paradise. The mountains are adorned with colorful wildflowers, and the valleys are filled with grazing caribou and moose. The coastal waters teem with life, with humpback whales breaching the surface and sea otters playfully floating on their backs. It's a season of abundance and natural beauty.
Fall in Alaska is characterized by cooler temperatures and stunning foliage. The colors of the leaves create a breathtaking backdrop for your cruise. You may encounter more rainfall during this season, but the advantage is that there are fewer tourists, allowing for a more intimate experience.
As fall arrives, the forests of Alaska turn into a painter's palette, with vibrant shades of red, orange, and gold. The crisp air carries the scent of fallen leaves, and the sound of migrating geese fills the sky. It's a time of transition, where the landscape prepares for the arrival of winter, and the wildlife prepares for the long, cold months ahead.
Finally, winter unveils Alaska's icy wonderland. While cruising during this time may be limited, it presents an opportunity to witness the mesmerizing Northern Lights. Be prepared for cold temperatures and shorter daylight hours if you choose a winter voyage.
During winter, Alaska transforms into a winter wonderland, with snow-covered mountains and frozen lakes. The Northern Lights dance across the night sky, painting it with vibrant hues of green, purple, and pink. It's a season of tranquility and awe-inspiring natural phenomena, where the silence is broken only by the sound of snow crunching under your feet.
Temperature Ranges Throughout the Year
Alaska's temperature ranges depend on the time of year and the region you visit. In spring, temperatures can range from 30°F to 60°F (-1°C to 15°C). Summer brings warmer temperatures, typically between 60°F and 80°F (15°C and 27°C). Fall ushers in cooler temperatures, ranging from 30°F to 60°F (-1°C to 15°C), and winter can be quite cold, with temperatures dropping below freezing.
However, it's important to note that Alaska's weather can be unpredictable, and temperatures can vary greatly even within a single day. It's always advisable to dress in layers and be prepared for sudden changes in weather conditions.
Regardless of the season, Alaska's climate offers a unique and captivating experience. From the vibrant colors of spring to the abundance of summer, the breathtaking foliage of fall, and the enchanting winter landscapes, each season has its own charm and allure. Whether you're a nature enthusiast, a wildlife lover, or simply seeking a peaceful escape, Alaska's climate has something to offer everyone.
The Alaskan Cruise Season
Understanding the Alaskan cruise season is crucial when planning your trip. Whether you prefer a more bustling atmosphere or a quieter experience, knowing the peak season and the advantages and disadvantages of the off-season will help you make an informed decision.
Peak Season for Cruising
The peak season for cruising in Alaska runs from May to September. This period aligns with the warmer temperatures and longer daylight hours, offering optimal conditions for cruising and exploring the state. The glaciers are more active, wildlife is abundant, and there are ample opportunities for outdoor activities.
During the peak season, you can witness the breathtaking beauty of Alaska in full bloom. The landscape is adorned with vibrant wildflowers, creating a picturesque backdrop for your cruise. The days are longer, allowing you to make the most of your time and experience the stunning sunsets that paint the sky in hues of pink, orange, and purple.
One of the highlights of cruising during the peak season is the opportunity to witness the majestic humpback whales as they migrate to Alaska's waters. These gentle giants put on a show, breaching and slapping their tails against the water, leaving you in awe of their grace and power. The peak season also offers a higher chance of spotting other wildlife, such as seals, sea lions, otters, and bald eagles.
For adventure enthusiasts, the peak season is the perfect time to engage in thrilling activities like kayaking, hiking, and fishing. The crisp air and mild temperatures make these outdoor adventures even more enjoyable. Imagine paddling through calm waters, surrounded by towering glaciers and snow-capped mountains, or reeling in a prized catch while the sun glistens on the water's surface.
Off-Season Advantages and Disadvantages
The off-season for Alaskan cruises generally falls outside the peak season, from October to April. While this time sees fewer tourists, it's important to be aware of the potential disadvantages. Cruising during the off-season may mean colder temperatures, limited wildlife sightings, and the possibility of encountering rougher seas. However, the benefits can outweigh the drawbacks for some travelers. Off-season cruises often come with reduced fares, fewer crowds, and a more serene atmosphere to fully immerse yourself in the natural beauty of Alaska.
During the off-season, Alaska transforms into a winter wonderland. The landscape is blanketed in pristine white snow, creating a magical setting that is perfect for those seeking a peaceful and tranquil escape. The silence is interrupted only by the occasional crackling of ice or the distant howl of a wolf.
While wildlife sightings may be less frequent during the off-season, there are still opportunities to spot some of Alaska's iconic creatures. The colder months bring the arrival of migratory birds, such as snowy owls and Arctic terns, adding a touch of elegance to the snowy landscape. You might also catch a glimpse of a moose or a reindeer, gracefully navigating through the winter terrain.
Off-season cruises offer a unique chance to witness the mesmerizing phenomenon of the Northern Lights. As the nights grow longer, the sky comes alive with dancing ribbons of green, purple, and blue lights. It's a truly awe-inspiring spectacle that will leave you feeling humbled by the wonders of nature.
If you're a fan of winter sports, the off-season is the perfect time to indulge in activities like snowshoeing, dog sledding, and ice fishing. Experience the thrill of gliding across frozen lakes, guided by a team of energetic sled dogs, or try your hand at catching a fish through a hole drilled in the ice. These unique experiences will create memories that last a lifetime.
Whether you choose to cruise during the peak season or the off-season, Alaska offers an unforgettable experience. Each season has its own charm and allure, allowing you to discover the beauty of this remarkable destination in a way that resonates with your personal preferences. So, plan your trip wisely, and get ready to embark on an extraordinary adventure through the Alaskan wilderness.
Wildlife Viewing Opportunities
Alaska is renowned for its exceptional wildlife viewing opportunities. From awe-inspiring whales to migratory birds, there are specific times that offer the best chances to witness these magnificent creatures up close.
When it comes to wildlife viewing in Alaska, few experiences can compare to the thrill of observing whales in their natural habitat. The state's coastal waters serve as a haven for a variety of whale species, including humpbacks and orcas. To increase your chances of spotting these majestic creatures during your Alaskan cruise, it's recommended to visit between May and September. During these months, the waters teem with an abundant fish population, attracting whales from far and wide. Witnessing a humpback whale breach the surface or an orca displaying its remarkable hunting techniques is an experience that will stay with you for a lifetime.
Best Times for Whale Watching
To increase your chances of spotting whales during your Alaskan cruise, it's recommended to visit between May and September. During these months, humpback whales, orcas, and other whale species migrate to Alaska's coastal waters to feed on the abundant fish population. You'll have the opportunity to witness these majestic creatures breaching, fluking, and displaying their remarkable behaviors.
Imagine standing on the deck of your cruise ship, the cool breeze brushing against your face, as you scan the horizon for any signs of movement. Suddenly, a massive humpback whale emerges from the depths, its enormous body soaring out of the water before crashing back down with a resounding splash. The sheer power and grace of these gentle giants are awe-inspiring, and you can't help but feel a sense of wonder and reverence for the natural world.
As you continue your journey through Alaska's coastal waters, you may encounter pods of orcas, also known as killer whales. These intelligent and social creatures are known for their striking black and white markings and their ability to communicate through a series of clicks, whistles, and calls. Watching them swim and hunt in synchronized harmony is a sight that will leave you breathless.
Bird Migration Seasons
If you're a bird enthusiast, timing your visit during the bird migration seasons is essential. Spring and fall are prime times to observe various bird species as they make their annual journeys. The spring migration, which occurs from April to June, brings a wave of avian visitors, including waterfowl, shorebirds, and songbirds. These birds travel thousands of miles, navigating by instinct and celestial cues, to reach their breeding grounds in Alaska. The air is filled with the melodic songs of warblers, sparrows, and thrushes as they establish territories and court potential mates.
In the fall, from August to October, birds begin their journey south, offering an equally captivating display of nature's wonders. Alaska serves as a vital stopover for many species as they prepare for the long and arduous migration ahead. Flocks of sandhill cranes fill the skies, their distinctive calls echoing across the landscape. V-shaped formations of Canada geese fly overhead, their honking cries signaling the changing of seasons.
During these migration seasons, birdwatchers have the opportunity to witness incredible spectacles, such as the gathering of thousands of shorebirds on mudflats, as they fuel up for their long journey. The diversity of bird species in Alaska is astounding, and you'll have the chance to spot rare and elusive species that are not found in other parts of the country.
Whether you're an avid whale watcher or a passionate bird enthusiast, Alaska offers a wealth of wildlife viewing opportunities that will leave you in awe. From the breathtaking displays of whales breaching the surface to the melodious songs of migratory birds, every moment spent in the presence of these magnificent creatures is a reminder of the beauty and wonder of the natural world.
Sightseeing and Excursions in Alaska
Alaska's natural wonders are a sightseer's paradise. Planning your cruise with specific activities in mind will ensure you make the most of your time in this captivating destination.
Timing Your Visit for Northern Lights
If witnessing the dazzling Northern Lights is at the top of your bucket list, plan your Alaskan cruise between September and April. During these months, the dark, clear nights provide the perfect conditions for viewing this celestial spectacle. Keep in mind that the further north you venture, the higher your chances of experiencing the Northern Lights in all their glorious splendor.
Glacier Tours and Iceberg Sightings
Glacier tours and iceberg sightings are iconic Alaskan experiences. To witness the majestic beauty of glaciers and icebergs, choose a cruise that operates during the warmer months. From May to September, the glaciers are more active, showcasing impressive calving and providing breathtaking opportunities for photography.
Factors to Consider When Planning Your Cruise
While determining the best time for your Alaskan cruise, it's essential to consider various factors, such as balancing cost and comfort and avoiding crowds and busy periods.
Balancing Cost and Comfort
The peak season brings higher demand, resulting in higher prices for cruises and accommodation. If you have budget constraints, consider sailing during the shoulder seasons, such as May or September, when fares may be more affordable while still offering favorable weather conditions. Additionally, upgrading to a higher category cabin or selecting a luxury cruise line can enhance your overall comfort and experience.
Avoiding Crowds and Busy Periods
If you prefer a quieter and more intimate experience, avoiding crowds and busy periods is crucial. As previously mentioned, cruising during the off-season can provide a more serene atmosphere with fewer tourists. Additionally, opting for less popular itineraries or smaller cruise ships can help you escape the crowds and discover hidden gems along the Alaskan coastline.
In conclusion, the best time to cruise Alaska ultimately comes down to personal preferences and interests. Whether you aim to witness the abundance of wildlife, marvel at glaciers, or enjoy favorable weather conditions, considering Alaska's climate, the cruise season, wildlife viewing opportunities, sightseeing options, and various factors will guide you towards making the right choice. Embark on a memorable Alaskan journey and create lifelong memories amidst the awe-inspiring beauty of the Last Frontier.
You may also like