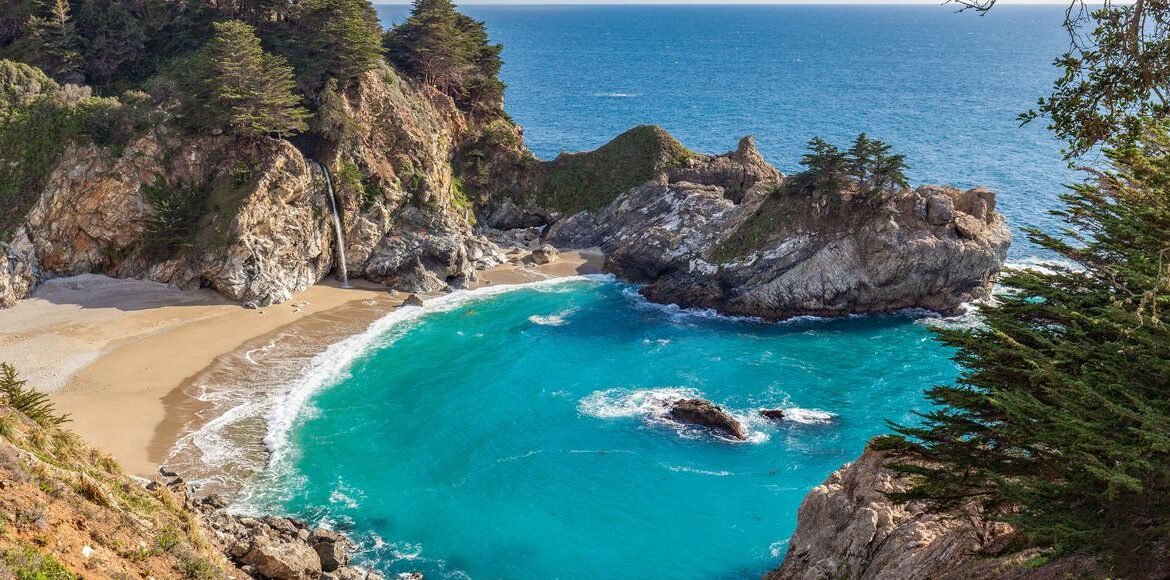 European Travel . Travel
From Beaches to Mountains: Exploring the Diverse Landscapes of California
California, the Golden State, is renowned for its breathtaking natural beauty and diverse landscapes. From its stunning coastline adorned with pristine beaches to its majestic mountain ranges, California offers a wealth of outdoor adventures and scenic wonders. In this article, we will take you on a virtual journey through the various landscapes of California, unveiling the hidden gems and must-visit destinations along the way.
Introduction: The Allure of California's Landscapes
California's landscapes have captivated travelers and adventurers for decades. Its sheer variety and natural wonders make it an ideal destination for those seeking outdoor exploration. From world-famous beaches to towering mountains, ancient forests to arid deserts, California has it all. Let's embark on a journey to discover the diverse landscapes that make this state truly remarkable.
Exploring California's Coastal Beauty
2.1 The Iconic Beaches of Southern California
Southern California boasts some of the most famous beaches in the world. From the sun-soaked shores of Malibu to the vibrant boardwalk of Venice Beach, this region offers a quintessential beach experience. Surfing enthusiasts flock to Huntington Beach, also known as "Surf City, USA," while families enjoy the sandy stretches of Newport Beach. The pristine beaches of Southern California are not to be missed.
2.2 The Rugged Beauty of Northern California's Coastline
Heading north, the coastal landscapes of Northern California take on a wild and rugged character. The iconic Highway 1 offers breathtaking views of the Pacific Ocean as it winds its way along the dramatic cliffs of Big Sur. Mendocino's coastal bluffs and the hidden coves of Point Reyes National Seashore provide a tranquil escape from the bustling cities. Northern California's coastline is a haven for nature lovers and photographers alike.
The Magnificent Sierra Nevada Mountains
3.1 Yosemite National Park: A Natural Wonderland
Yosemite National Park is a crown jewel among California's natural wonders. Its majestic granite cliffs, towering waterfalls, and ancient sequoia groves leave visitors in awe. Whether hiking through the iconic Yosemite Valley or climbing to the top of Half Dome, the adventures within this park are boundless. Yosemite's unparalleled beauty has made it an inspiration for artists, writers, and outdoor enthusiasts from around the world.
3.2 Lake Tahoe: Nature's Playground
Nestled in the Sierra Nevada Mountains, Lake Tahoe is a pristine alpine lake renowned for its crystal-clear waters and picturesque surroundings. In summer, visitors can enjoy a wide range of water activities, from swimming and kayaking to paddleboarding and fishing. When winter arrives, the area transforms into a winter wonderland, attracting skiers and snowboarders to its world-class resorts. Lake Tahoe is a year-round playground for nature enthusiasts.
The Enchanting Redwood Forests
4.1 Muir Woods National Monument: Where Giants Roam
Muir Woods National Monument, located just north of San Francisco, is a sanctuary of ancient coastal redwoods. Walking among these towering giants is a humbling experience that transports you to a prehistoric era. The quiet trails wind through lush ferns and vibrant greenery, creating an otherworldly atmosphere. Muir Woods allows visitors to connect with nature on a deeply spiritual level.
4.2 Avenue of the Giants: A Drive Through Ancient Giants
Further north, the Avenue of the Giants offers a scenic drive through Humboldt Redwoods State Park. Towering redwood trees line the road, creating a magical canopy that filters the sunlight. The quietness of this route allows for a peaceful and contemplative journey, with opportunities to hike, camp, and immerse oneself in the awe-inspiring presence of these ancient giants.
The Otherworldly Desert Landscapes
5.1 Death Valley National Park: A Desert Wonderland
Death Valley National Park is a land of extremes. It boasts the lowest point in North America and holds the record for the hottest temperature ever recorded on Earth. Despite its harsh conditions, the park reveals a mesmerizing beauty that captivates adventurers. From the vast salt flats of Badwater Basin to the mesmerizing colors of Artist's Palette, Death Valley is a true desert wonderland.
5.2 Joshua Tree National Park: Where Desert Meets Sky
Joshua Tree National Park is a unique desert landscape characterized by its namesake Joshua Trees, which seem to defy gravity as they stretch towards the sky. The park's surreal rock formations, hidden oases, and incredible stargazing opportunities make it a favorite among outdoor enthusiasts and photographers. Joshua Tree is a place where the desert and the sky merge in a breathtaking display of natural beauty.
The Serene Beauty of California's Central Coast
6.1 Big Sur: A Scenic Drive Alongthe Pacific
Stretching along the central coast, Big Sur offers one of the most scenic drives in California. The winding coastal highway provides breathtaking views of rugged cliffs, crashing waves, and panoramic vistas. Hiking trails lead to hidden waterfalls and pristine beaches, offering opportunities for both adventure and relaxation. Big Sur's untouched beauty and tranquil atmosphere make it a haven for nature enthusiasts and those seeking a peaceful escape.
6.2 Channel Islands National Park: A Pristine Archipelago
Off the coast of Southern California lies Channel Islands National Park, an archipelago of five unique islands. This protected marine reserve is home to diverse ecosystems and abundant wildlife. Visitors can explore the islands through hiking, kayaking, and snorkeling, discovering secluded beaches, sea caves, and vibrant kelp forests. Channel Islands National Park offers a glimpse into an untouched and pristine coastal environment.
The Verdant Wine Country
7.1 Napa Valley: A Haven for Wine Enthusiasts
Napa Valley, renowned worldwide for its vineyards and wineries, is a paradise for wine lovers. The picturesque valley is blanketed with rows of grapevines, creating a patchwork of colors that change with the seasons. Visitors can indulge in wine tastings, tour the vineyards, and savor exquisite culinary experiences. Napa Valley's idyllic setting and world-class wines make it a must-visit destination for connoisseurs and enthusiasts alike.
7.2 Sonoma County: Where Wine and Nature Unite
Adjacent to Napa Valley, Sonoma County offers a more laid-back and rustic wine country experience. Rolling hills, charming small towns, and artisanal wineries define the region's character. Visitors can explore the scenic countryside, taste a variety of wines, and enjoy farm-to-table cuisine. Sonoma County's relaxed ambiance and natural beauty make it an ideal retreat for wine and nature enthusiasts alike.
The Unique Geothermal Landscapes
8.1 Lassen Volcanic National Park: A Land of Fire and Ice
Lassen Volcanic National Park showcases the fascinating geothermal landscapes of California. Steaming fumaroles, bubbling mud pots, and volcanic peaks define the park's unique character. Visitors can hike through volcanic terrain, witness the powerful eruptions of Bumpass Hell, and marvel at the colorful hydrothermal areas. Lassen Volcanic National Park is a testament to the dynamic forces that shape the Earth's surface.
8.2 Salton Sea: California's Largest Lake
Situated in the heart of the Colorado Desert, the Salton Sea is a saline lake with a rich history and unique ecosystems. Despite its challenges, the lake remains an important stopover for migratory birds along the Pacific Flyway. Visitors can observe diverse bird species, explore the shoreline, and learn about the lake's cultural significance. The Salton Sea offers a glimpse into the delicate balance between nature and human impact.
The Majestic High Desert
9.1 Mount Shasta: A Mystical Mountain
Rising majestically from the surrounding landscape, Mount Shasta is a mystical and awe-inspiring presence in Northern California. This dormant volcano offers a range of outdoor activities, from hiking its trails to skiing down its slopes. Many consider Mount Shasta a sacred place, known for its spiritual energy and legends. Exploring the mountain's beauty is a transformative experience for nature lovers and spiritual seekers alike.
9.2 Anza-Borrego Desert State Park: Wildflower Wonderland
Anza-Borrego Desert State Park transforms into a vibrant wildflower wonderland during the springtime. Blanketing the arid desert landscape, colorful blooms create a surreal and captivating sight. Hiking trails lead to hidden palm oases, slot canyons, and stunning vistas. Anza-Borrego Desert State Park offers a unique blend of desert beauty and floral abundance.
The Captivating National Forests
10.1 Sequoia and Kings Canyon National Parks: Home to Giant Sequoias
Sequoia and Kings Canyon National Parks are home to some of the world's largest and oldest trees—the giant sequoias. Walking among these ancient giants is a humbling experience that instills a sense of awe and reverence. The parks also offer breathtaking vistas, dramatic canyons, and sparkling rivers. Exploring Sequoia and Kings Canyon National Parks immerses visitors in a world of natural grandeur.
10.2 Shasta-Trinity National Forest: A Haven for Outdoor Enthusiasts
Encompassing over 2.1 million acres, Shasta-Trinity National Forest offers endless opportunities for outdoor adventures. From hiking and camping to fishing and boating, the forest caters to every outdoor enthusiast's desires. Towering peaks, pristine lakes, and lush forests create a picturesque backdrop for exploration. Shasta-Trinity National Forest invites visitors to reconnect with nature and experience the serenity of the great outdoors.
Conclusion
California's diverse landscapes offer an abundance of natural wonders waiting to be explored. From the sun-drenched beaches of Southern California to the snow-capped peaks of the Sierra Nevada Mountains, each region has its own unique charm and beauty. Whether you seek adventure, tranquility, or simply a connection with nature, California's landscapes have something for everyone. So pack your bags, hit the road, and embark on an unforgettable journey through the breathtaking landscapes of the Golden State.
FAQs
12.1 How many national parks are there in California?
California is home to nine national parks, each offering its own distinct natural wonders and recreational opportunities.
12.2 What is the best time to visit California's beaches?
The best time to visit California's beaches is during the summer months, from June to August, when the weather is warm and the water is inviting.
12.3 Are there any pet-friendly hiking trails in California?
Yes, California has numerous pet-friendly hiking trails where you can enjoy the great outdoors with your furry companions. Some popular options include Runyon Canyon Park in Los Angeles and Point Isabel Regional Shoreline in the San Francisco Bay Area.
12.4 Can you swim in Lake Tahoe?
Yes, Lake Tahoe is known for its crystal-clear waters and offers excellent swimming opportunities. However, it's important to note that the water can be quite cold, even in the summer, due to its high elevation.
12.5 Are there any camping options in Joshua Tree National Park?
Yes, Joshua Tree National Park has several campgrounds where visitors can enjoy overnight stays. The park offers both developed campgrounds with amenities and more primitive campgrounds for those seeking a rugged camping experience.
You may also like